List of Stands
A Stand is a physical manifestation of one's fighting spirit, introduced in Part 3. Each Stand is graded in five aspects, from A-E; Destructive Power (Brute strength), Speed, Precision, Endurance, Range, and Development Potential (or, how much of the Stand's abilities have been discovered). Along with these, most Stands have a 'special ability,' like healing or stopping time. Most Jojo characters after Part 2 have Stands. (Click here for more information on stands in general) Following is a list of all important Jojo Stands:
Hermit Purple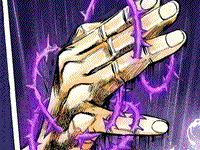 Hermit Purple in Pt 3

Strength: D
Speed: C
Precision: D
Endurance: A
Range: D
Potential: E


Hermit Purple, named after the tarot card 'the Hermit', is the Stand of Joseph Joestar used in Parts 3 and 4. It takes the form of purple, thorned vines extending from Joseph's body. Joseph, along with all the living Joestars, gained his Stand in 1989 after Dio Brando pierced Jonathan Jostar's body with the Stand Arrow.

While Hermit Purple offers little in the form of physical strength (it has demonstrated strength enough for Joseph to swing around on), its true power lies in its special ability: Hermit Purple has notable psychic powers. Most famously, Joseph can break a camera with Hermit Purple and produce a 'spirit photograph' of anything in the world. Hermit Purple can also connect to televisions to provide a 'spirit video' of anything (even his own brain), or can channel it through the ground to make maps out of sand. Joseph is also able to channel Hamon through his vines.
Star Platinum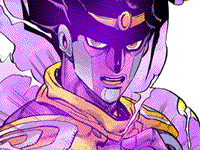 Star Platinum in Pt 6

Strength: A
Speed: A
Precision: A
Endurance: A/E
Range: C
Potential: A/E


Star Platinum is the Stand of Jotaro Kujo. Named after the tarot card the Star, Star Platinum is the first Stand introduced in the series, gained shortly after Dio peirced Jonathan's body with the Arrow. The most human-like of humanoid Stands, Star Platinum manifests as a tall, heavily muscled, purple (or green in some illustrations) person with flowing, black hair. Star Platinum is mostly naked, only wearing a loincloth, a scarf, and gloves.

Star Platinum is considered one of the best Stands, thanks to its immense physical strength, incredible speed, inpenetrable durability, and hair-trigger precision. Like most power-based Stands, Star Platinum's weakness lies in its short range, only being able to manifest a few meters away from Jotaro.

Star Platinum's true power, however, was only discovered at the end of part 3. Star Platinum can stop time for everyone except its user for around five seconds, allowing Jotaro to move fully independent of the universe around him. This five-second limit decreased by disuse, being only around 0.2 seconds by the beginning of part 4. By part 4's end, however, the time-stop was up to 2 seconds, where it stays until the end of part 6. In Jotaro's final battle with Enrico Pucci, the time-stop is again five seconds, but in exchange, Star Platinum's durability decreased signifigantly. Star Platinum is considered a foil to Dio's World. An extremely powerful Stand, Star Platinum was a force to be reckoned with until the end of the universe.
Crazy Diamond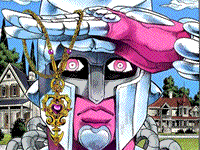 Crazy Diamond

Strength: A
Speed: A
Precision: B
Endurance: B
Range: D
Potential: C


Crazy Diamond (sometimes shortened to Crazy D) is the Stand of Josuke Higashikata, featured prominently in part 4. Josuke first gained his Stand as a young child (around the age of four), when Dio Brando gave the entire Joestar bloodline Stands in 1989. Crazy Diamond is humanoid, appearing as a pink and blue, armored humanoid, around the same height as Josuke.

Not only does Crazy D possess extreme strength and speed, but its special ability is extremely powerful and versatile. Crazy D has the ability to 'fix' things by restoring them to a past state: fixing broken things, healing wonds, breaking things down to their components, etc. Crazy D need only touch something to 'fix' it. While Crazy D can heal people from the brink of death, it is limited in its miniscule range. It also cannot 'fix' Josuke himself, nor can it being things back to life. 'Fixed' objects parts try and fly back together, meaning with one small scrap, Josuke can track down the entire peice (as seen with the hand of serial killer Yoshikage Kira). Overall, Crazy Diamond's power Stands as one of the most versatile and useful Stand abilities there is.
Gold Experience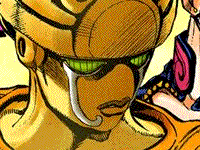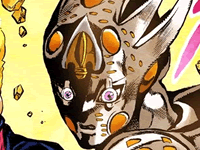 Gold Experience (Top)

Gold Experience

Requiem (Bottom)

Strength: C/NONE
Speed: A/NONE
Precision: C/NONE
Endurance: D/NONE
Range: E/NONE
Potential: A/NONE


Gold Experience, the Stand of Giorno Giovanna, is a Stand that has been with its user since birth, but was only awakened when Giorno was around 15. Standing around the same height as Giorno, Gold Experience is one of the less humanoid Stands, a, golden, robot-like Stand with ladybug brooches on its chest.

Much like Crazy Diamond, Gold Experience's power lies mostly in its ability. Rather than focus on using brute strangth (of which there is plenty), Giorno tends to adapt his special ability to confuse and defeat enemies. In essence, Gold Experience can 'create life'. Gold Experience transforms nonliving things into living ones, like luggage to a frog, or a tooth to a fly. While this is extremely adaptable in itself, any hit done to the created life will reflect back to the assailant. Additonally, when a human is hit with this ability, their senses will 'overload' and their consience will temporarily detach from their body, leaving them vulnerable.

As versatile as these skills are, Giorno has specialized them further, particularlly a 'healing' one. When someone is hit with a bullet (or other projectile), and the projectile stays lodged in, Giorno can use Gold Experience to turn the bullet into the very tissues it destroyed. This, however, is extremely painful.
Gold Experience Requiem
Finally, when Giorno peirces his Stand with the Stand Arrow, it evolves into Gold Experience Requiem, which retains its original abilities, as well as a new one; Requiem can essentially 'undo' any action, rendering any attack useless. Requiem can function independently of Giorno's will, an ability rare among Stands. Requiem is so powerful it cannot be measured by the normal Stand ratings.
Not only is Gold Experience extremely versatile and powerful, but its Requiem form is likely the most powerful Stand to ever exist.
Stone Free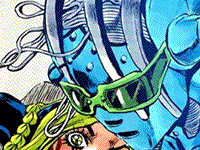 Stone Free

Strength: A
Speed: B
Precision: A
Endurance: C
Range: C
Potential: A


Stone Free is the Stand of Jolyne Kujo, which she unlocked after cutting herself with the shard of the Stand Arrow. Featured only in Part 6, Stone Free is a humanoid Stand, around the same size of Jolyne. It is mostly blue, with silver accents and parts of it being exposed, tightly wound string- which is actually what it is made of. Stone Free is constantly wearing sunglasses.

Like the Stand of Jolyne's father, Stone Free has good strength, precision, and speed. Stone Free's unique power allows Jolyne to turn any part of her body into string. This string has a variety of uses, including listening like a can-and-string telephone, strangling somebody, swinging around, stitching up wounds, and even creating Mobius strips to counteract C-Moon's ability. Jolyne can cut off her string, but damages her body, as the string is her body. Unravelling more than 75% of her body will begin to kill Jolyne, or unwinding her heart or brain. Overall, Stone Free is relatively powerful, but is only made truly excellent thanks to its user's cleverness.
Tusk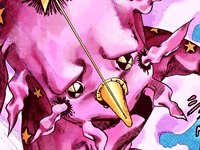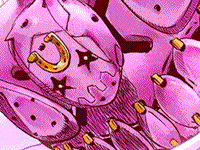 Tusk Act I (Top)

Tusk Act IV (Bottom)

Strength: E/D/D/A
Speed: E/D/D/B
Precision: E/C/C/B
Endurance: B/C/D/A
Range: D/B/B/A
Potential: A/A/A/E


Tusk, the Stand of Johnny Joestar, is an extremely rare type of Stand: an Evolving Stand. In essence, this Stand has multiple forms (called ACTS), each with its unique appearance. Each ACT also expands on the previous ACT's ability. Tusk has 4 Acts, each involving shooting Johnny's own fingernails with spinning power.

ACT 1 allows Johnny to spin his fingernails in his fingers and shoot them; ACT 2 allows Johnny to move around the hole created by his nails; ACT 3 allows Johnny himself to enter the hole, and move around; ACT 4 utilizes the spinning of the fingernails to such an extent to even pierce through dimensions (and restore Johnny's ability to walk). ACTS 1-3 are available to Johnny all the time, while he can only use ACT 4 while riding a horse in a specific way. ACT 4 is currently the only Stand able to break D4C's Love Train ability, and is even uneffected by a time stop ability- it is free from time barriers. It is one of the few dimension-altering Stands.
Soft and Wet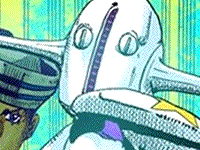 Soft &amp Wet

Strength: C
Speed: B
Precision: C
Endurance: B
Range: D
Potential: A


Soft &amp Wet (S&W)is the Stand of Part 8's Josuke Higashikata. It is extremely robotic, not looking human in the slightest. Its defining feature are the twin prongs extending from each side of its head.

Soft &amp Wet has little to boast about in terms of strength, speed, precision, or endurance, but its special ability is where all its power is. S&W can 'plunder' or 'steal' qualities of objects- color from a chair, hair from a cat, eyesight from a person, gravity from falling things, even friction from a floor- and apply them to other objects. Josuke can keep these qualities isolated in his bubbles, formed by S&W, which float around him and have a star mark on them. S&W's ability is so versatile it is almost impossible to explain the possbilities; there seems to be no limit to what qualities or how many he can steal.
The World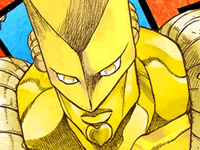 The World in Pt 3

Strength: A
Speed: A
Precision: B
Endurance: A
Range: C
Potential: A


The World is the Stand of Dio Brando, first manifested when Dio pierced himself with the Stand Arrow. The World, like Dio, is tall and heavily muscled. The World is completely yellow-gold, and has diver-like gas tanks on its back, as well as a sort of belt, and a crown resembling the Crown of Lower Egypt. Also like Dio, The World has small heart motifs on its chin and knees.

Considered the ultimate Stand (until the appearance of Gold Experience Requiem), The World has impossible strength, speed, endurance, and precision. The World's special ability is its time stop, freezing time for everybody except its user for an extended time. Because Dio's head hadn't fully synchronized with Jonathan Joestar's body, the time stop originally had a limit of five seconds. However, as Dio healed, the time stop extended to ten seconds over the course of a night. It is heavily implied that, should Dio have survived and kept healing, the time stop's duration would have lasted longer and longer, eventually becoming infinite when Dio completely healed.

The World is so powerful that it was only beaten by pure chance; if Jotaro had not developed his own time stop ability in the knick of time, Dio and The World would have been unbeatable (except maybe by the Requiem Stand of his son). The World was untouchable.
Killer Queen
Killer Queen

Strength: A
Speed: B
Precision: B
Endurance: B
Range: D
Potential: A


Killer Queen is the Stand of the serial killer Yoshikage Kira. It is currently unknown how or when Kira gained his Stand. Killer Queen takes the form of a pink, humanoid Stand with a cat-like face- large eyes and pointed ears.

Killer Queen's abilities stem from Kira's desire to remain undiscovered as a serial killer. Its primary ability is to turn any object into a bomb. When an object (which can be anything, from a coin to the air) is turned into a bomb, its appearance remains unchanged, but Kira can explode it at any time. If a person is in contact with a bomb when it explodes, they too will explode, dying instantly. Unique about Kira's bombs is that they leave no evidence; there is no smoke, and any sign of the killed person (or animal) is destroyed completely, leaving no trace and making Kira impossible to track.

Killer Queen's secondary ability, Sheer Heart Attack, takes the form of an explosive tank which detaches from Killer Queen's left hand. The tank is small, and its range is nearly infinite, meaning Kira can easily escape while it is deployed. Sheer Heart Attack, when in contact with a person, will explode in the same manner as Kira's bombs, and then will seek out the next target. Sheer Heart Attack's durability is also close to infinite, as not even Star Platinum could seriously damage it. The only weakness the Stand has is that it is automatic; Kira cannot control it, and it seeks targets randomly, going after the biggest souce of heat in the immediate area. Kira also has to manually collect it if he wants to retrive it. Sheer Heart Attack will constantly taunt its opponents by yelling "Look over here!"

When Killer Queen is struck by the Stand Arrow, it gains another ability: Bite The Dust. Bite the Dust activates whenever Kira tells somebody his true identity, and it installs a miniature Killer Queen in their eye, invisible to everybody. If the person imbued with Bite The Dust tells anybody else Kira's true identity, the person they tell will explode, and time will reset to the beginning of the day, with only the person imbued with Bite The Dust remembering the events. In this new timeline, things can be changed, but the person who was exploded with always explode at the same time, no matter what happens. This ability repeats indefinitely, with however many people are told of Kira's indentity, until Kira either dies or cancels the ability.

Killer Queen is the perfect Stand for Kira's killer lifestyle, both in terms of hiding and attack, truly a Stand to be feared.
King Crimson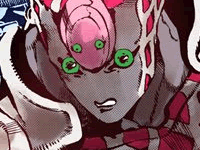 King Crimson and Epitaph

Strength: A
Speed: A
Precision: ?
Endurance: E
Range: E
Potential: ?


King Crimson- as well as its sub-stand Epitaph- are the Stands of the mob boss Diavolo. King Crimson is a humanoid Stand with a crisscrossing red and white pattern all over its body. Its face has only eyes and a mouth, which are constantly contorted in an angry expression. Epitaph takes the form of the smaller face on King Crimson's forehead.

Epitaph is utilized exclusively by Diavolo's alternate personality Doppio, and can see 10 seconds into the future; this future, however, can be changed.

King Crimson's ability, however, is more confusing: it can erase small sections of time. This is often confused to be similar to Dio's time stop, but it is fundamentally different. Essentially, when Diavolo activates his time deletion, the time he deletes (only half a second) does not affect him. Diavolo removes himself from this time, and everything proceeds as normal, except nobody remembers the erased time. For example, somebody could shoot at Diavolo. If he activates his Stand, he would 'disappear' and the bullets would go normally. Then, he would reappear, and nobody except him will remember the erased time. From the point of view of an outsider, everything would jump forward half a second, and Diavolo would be uneffected by anything done.

Confusing as it may be, King Crimson's ability grants Diavolo almost guaranteed invincibility, only defeated by Gold Experience Requiem.
Whitesnake/C-Moon/Made In Heaven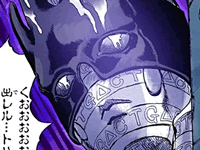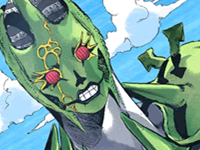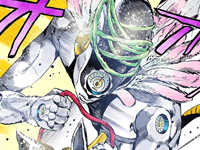 From Top to Bottom:

Whitesnake

C-Moon

Made In Heaven

Strength: ?/None/B
Speed: D/B/Infinite
Precision: ?/?/C
Endurance: A/?/A
Range: ?/B/C
Potential: ?/?/A


Whitesnake, C-Moon, and Made In Heaven are the evolved forms of the Stand of the preist Enrico Pucci. Unlike a common evolving Stand, which comprises of naturally progressing ACTS, Pucci had to use the extremely complicated plans of Dio Brando to forcibly evolve his Stand into its highest form.
Whitesnake
Whitesnake, Pucci's original Stand, is humanoid and decorated with repeating lines of 'GΔTC', the four bases of DNA (the Δ represents the missing part of Pucci's plans to evolve his Stand, or 'reach heaven'). Whitensnake is a rare Stand that can operate in a large range and independently of its user. Its ability involves removing two 'Discs' from people. These Discs, in the shape of CDs, are the 'Stand' disc and the 'Memory' disc. Only Stand users can have their 'Stand' disc removed. Someone's Stand is their spirit, so if their Stand disc is removed, their body will eventually die. Their memory disc contains all their memories. If someone has their Stand disc but not their memory one, they will be alive, but cannot speak, think, etc. Their Stand will attack anyone touching them out of instinct. Pucci can take his Discs and insert them into non-Stand users, giving them the Stand. This is the only way in the original universe to gain a Stand post-birth without using the Stand Arrow.
C-Moon
Once Pucci fuses his Stand with the Green Baby (a creature grown from a bone of Dio Brando and the souls of 36 sinners), his Stand evolves into C-Moon. Visually, the Stand looks like a fusion between Whitesnake and the Green Baby, but its abilities are nothing like Whitesnake's. C-Moon's powers revolve around gravity: its main power as a source of inverted gravity withing a 3km radius, meaning anything within a 3km radius from Pucci will fall away from him- anything (this also grants Pucci the ability to float/defy gravity). Additionally, if one is hit by C-Moon directly, they are turned inside out, either killing them or seriously damaging them (this was stopped by Stone Free turning Jolyne into a Mobuis strip, which has no true inside or outside).
Made In Heaven
The Final Evolution of Pucci's Stand was known as Made In Heaven. It was 'unlocked' after Pucci reached the co-ordinated specified in Dio's plan to achieve 'heaven' (or the ultimate form of a Stand). Made In Heaven is the 'ultimate form' of Whitesnake. Made in Heaven takes the appearance of a thin, masculine humanoid fused at its waist to the front end of a horse (resembling a two-headed, two-legged centaur). A large cable, forming a clean arch, joins the humanoid half between its shoulder blades to the truncated end of the horse. The human head is slightly elongated, with a smooth, black surface, embedded with a large clock face in the region of its eyes and nose.
Made In Heaven's power is simple: it speeds up time, exponentially, for all non-living things. At first, time only flowed a few times faster than normal, but as Pucci's affinity with his new Stand grew, months were passing in what used to be seconds. Pucci is the only exception to the living-organisms rule, meaning he moves at the rate time is speeding up; as time went on, he was moving so fast he was impossible to see without using Star Platinum's time-stop ability.
The consequences of Made In Heaven's speeding up of time are vast. Once the universe's time has reached its 'breaking point,' the current universe is reset. At this point, Pucci can remake the universe in any way he wanted, altering its characteristics and the fates of the people in it. Once the universe was reset, however, Pucci was killed, and the universe reset randomly again. Only the person who killed Pucci kept their memories of the original universe.
Made In Heaven has the most drastic powers of all Stands in the series- not even Gold Experience Reqiuem could undo its powers (although, had Giorno Giovanna been near Pucci when he ended the universe, he may have been able to undo the time change). Whatever the case, Made In Heaven completely changed the Stand game, reseting the universe 3 times before Pucci's death.
Dirty Deeds Done Dirt Cheap (D4C)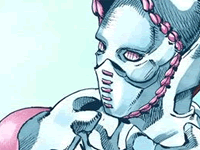 D4C

Strength: A
Speed: A
Precision: A
Endurance: A
Range: C
Potential: A


Dirty Deeds Done Dirt Cheap, almost always shortened to D4C, is the Stand of Funny Valentine, the United State's President. D4C has a unique profile; it is humanoid, with its head having two extremely tall, pointy spikes extending from it, almost like a rabbit's ears. The rest of the Stand is rather simple, decorated in pink and blue.

D4C's ability is based on the idea of 'Alternate Universes' first introduced with Made In Heaven. D4C essentially allows Valentine- or others- to travel between alternate dimensions, using two objects smashed together as a portal (like a door and a wall or a flag and a floor). There are some additional subsets to this ability. Should Valentine be injured, he can go to an alternate form of himself and pass on the Stand, along with all his memories and personality, essentially granting him immortality (unless he is instantly killed or stopped from travelling). Additionally, two equivalent things from different universes (like people) cannot exist in the same place, and if they do come too close to each other, both will be destroyed instantly, without stopping it. Valentine is the only person immune to this effect, and he can use it to instantly kill enemies by throwing their parallel self at them.
Love Train
Once Valentine has assimilated all of the Corpse Parts, he gains a new ability, Love Train, which directs away all misfortune and bad luck. This ability was only breakable by Johnny Joestar's Tusk ACT 4.
With abilities that essentially guaranteed infinite lives and instant kills, D4C is a powerful Stand worthy of the scheming President.